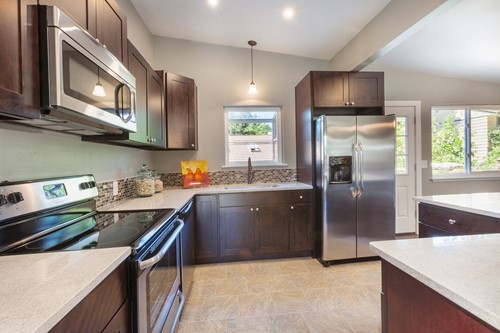 If you're remodeling your kitchen, you might need to choose new countertops. There are many choices, all with distinct advantages and disadvantages. Unfortunately, many of the popular options are expensive, which can make it difficult for homeowners on a strict budget. Luckily, there are plenty of affordable materials for countertops. Here are some of the best options:
Paint
The most affordable and simplest way to change your countertops is by painting them. No matter what your current counters are made of, there is a type of paint available to do the job. This is an effort-intensive option involving multiple steps, but the savings is significant compared to other materials. Try painting your countertops to give them a fresh look without replacing them.
Laminate
Laminate counters continue to rise in popularity and quality. With more advanced printing technologies, you can even mimic the appearance of stone or wood with laminate. While older laminate options were prone to scratches, newer versions are more impervious to damage. There are also several affordable sealant options to add further protection.
Concrete
Concrete is a perfect option for those who want the same cool and earthy feel of natural stone without breaking the bank. Concrete is a fraction of the cost of stone and much easier to install, which also helps keep the price low. You can even install concrete countertops on your own if you have DIY savvy. Also, the wide variety of stains and finishes for concrete means you have far more options than simple gray.
Tile
You can use tile for more than just your kitchen backsplash. For countertops, tile offers the same durability of natural stone for a much lower price point. Tile also gives you the chance to use colors and patterns for your countertops. Whether you want natural tones or bold, glossy colors, there are affordable tile options for every kitchen.
Wood
Wood or butcher block counters are affordable options for countertops with a warmer, rustic feel. There are many types of wood counters available, including bamboo and maple. You can add stains to customize the color or simply enjoy the natural grain of the wood you choose. While affordable and simple to install, wood countertops require regular upkeep. To make sure they look and work their best, you'll need to oil them every few years.
These are just a few options to keep in mind when picking a material for countertops. All have their own advantages and drawbacks but offer significant savings compared to other popular materials like marble, quartzite or granite.